Appear higher in the search results and receive more enquiries & bookings with a higher space score.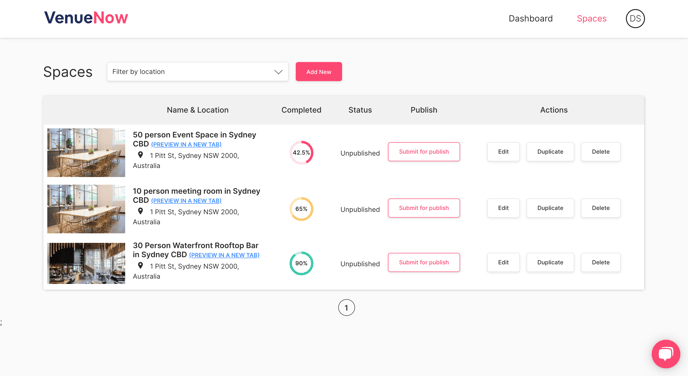 What is the Space Score?
The space score is the percentage ring that appears in the "Completed" column next to each of the spaces on your profile. The space score is an indicator of how complete your space is.
In order to increase your space score, ensure you edit your space and enter all of the required information.

It is advised that you aim for 100%, although a score >75% is a "pass".

Click here to see all of the information you need to add.
---
Why is the space score important?
Spaces with a higher space score appear higher in the search results

This means that you'll receive more views on your space page

You'll receive more enquiries and bookings

Since your space has more and higher quality information, customers are able to quickly find and compare the features in your space that they're looking for such as:

Photos
Pricing & Availability
Amenities & Extras
Menus & Packages
Rich descriptions

Spaces with all of this information typically have a much higher conversion rate from space page view to enquiry and online booking
---
What do the colours represent?
Green means your score is greater than or equal to 75%

75% represents a "pass" and the additional factors that add up to 100% will help you appear higher in search results and convert more enquiries and bookings

Yellow means your score is between 50 and 75%

Your space is close to passing but there is still some more information to add
Red means your score is less than 50%

Your space is missing some vital information to publish your space
---
What are the factors that make up the space score?


Feature
Requirement
Score
Space Type
One or more selected
5%
Activity Type
5 or more selected
10%
Room Layouts & Capacity
One or more layout and capacity added
5%
Space Title
20-60 characters
5%
How do you find this space
Text added to the field
5%
Onsite Contact Details
All fields filled in including:
- Name
- Phone
- Email
- Job Title
5%
Amenities & Extras
3 or more selected
5%
Opening Hours
Added
5%
Pricing & Availability
Pricing added for one or more time period
10%
Space Description
200-600 characters
10%
Photos
3 photos
10%
Sub total
75%
COVID Checklist
All boxes checked
5%
Menus & Packages
One or more menu or package added
5%
Show Pricing
Yes (ie. pricing public to customers)
5%
Photos
4 or more photos
5%
Calendar Linked
Yes
2.5%
Instant Booking
Yes
2.5%
Sub total
25%