The purpose of connecting a credit or debit card to your account is to "pay as you go" to unlock enquiries.
When you receive an enquiry on VenueNow you will be able to review information such as the customer's budget, event date and time, number of people, layout, activity/event type, required extras and the customer's first name.
In order to view the customer's contact details you will need to unlock the enquiry. It costs $50 to unlock an enquiry. If you do not unlock the enquiry you will not be charged.
---
Bonus credit
If you connect a valid card to your account, VenueNow will automatically provide you with $50 bonus credit to your account (equivalent to one free unlocked enquiry).

Please note, this is only valid for the first card you apply and is not valid if you change your card at a later date.
---
How do I add my card
To add a card to your account, click on the profile dropdown then click "Company Settings". Alternatively, you can click the "Unlock $50 Bonus Credit" button at the top of the page.


Next, click the "Setup Pay As You Go" button to reveal the box to add your card.

Finally, add your card details then click the "Add card" button to save your card details.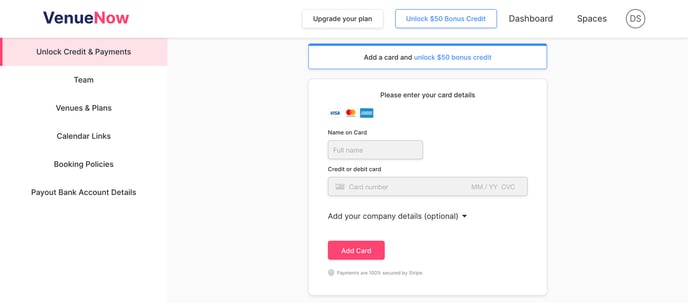 If you do not have a card to add to your account, please read about our other payment options here.