VenueNow allows you to connect a Google calendar to your spaces to enable real-time availability and instant bookings.
---
Please note:
Currently VenueNow only integrates with Google Calendar. We do not support other third-party calendar or booking systems.
---

Step 1
From the "Spaces" page in your Venue Manager, click "Edit" on the space you want to add a calendar to.

Step 2
Select the "Calendar Setup" tab on the left menu. Then click "Authorise Calendar"

Step 3
Click the "Authorise Google" button. This will open a new tab.

Step 4
Select the relevant Google account from the options provided or enter new Google account details by clicking "Use another account"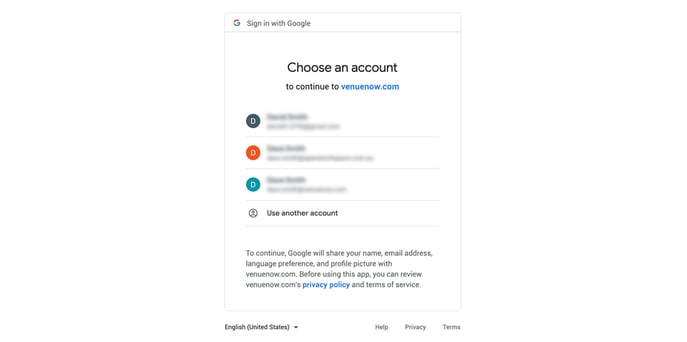 Step 5
VenueNow is in the progress of going through verification with Google so a message saying "This app isn't verified" may appear. Simple click the "Advanced" button on the left then click "Go to venuenow.com"

Step 6
Next, click the "Allow" button. This will take you back to VenueNow.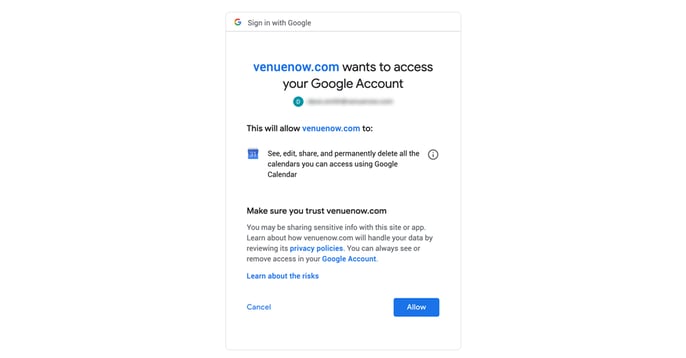 Step 7
The calendar account you have just added will now appear in the dropdown. Click "Next" to progress with this calendar account.

Step 8
Select the calendar from the dropdown. The name of the calendar is usually your email address by default or may be another name that has been created within Google. Once you have selected the relevant calendar, click "Connect".

Step 7
Your calendar is now connected!

How does real-time availability work?
If a customer is looking to book or enquire about a specific time slot eg. December 1st, 9:00am-12:00pm, since your calendar is connected VenueNow will know if this time slot is available or not. If the time slot is available, the customer can book or enquire about that time.